Fully Custom Websites to Fit Your Business Needs.
Built with WordPress and made with a fast, SEO friendly, and custom design.
Pick a maintenance plan, or contact us to discuss a custom plan for your needs.
Unique and professional logo design to communicate the essence of your brand.
Search Engine Optimization
Get your website ranked in Google's top searches with professional SEO services.
Your BusinessDeserves The Best
We Deliver Web Design creates beautiful and unique websites that are easy to navigate. Each website is built with a fully custom theme that will impress you and your visitors, and make you stand out from your competition!
Our design strategy combines SEO friendly practices to help you rank in search engines along with lead generating design so you can gain more business.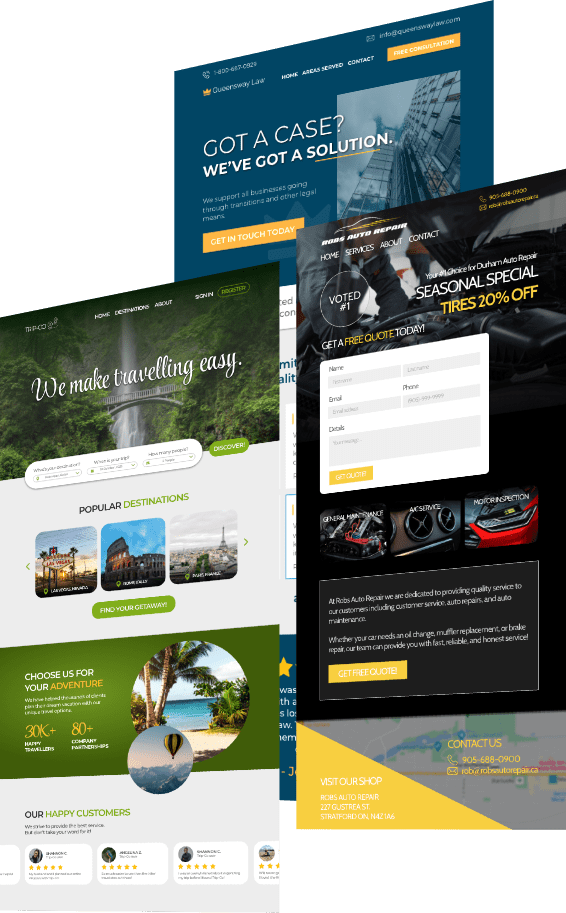 Katie B.
"Janelle was a pleasure to work with from start to finish! She was detail orientated, attentive, quick to respond to our needs & concerns and kept us on track to get our site up and running. She was easy to work with and extremely patient with us. 
All in all, I would highly recommend We Deliver Web Design!"
Graham F.
"Janelle created a website that's easy to use and very functional. Added her own ideas that made the site 100% better and visually appealing compared to the one we had. The platform that the website is designed with is very user friendly to add and delete content as the need arises. We Deliver Web Design was prompt in answering any questions or changes we asked for.
I would highly recommend Janelle for Web design."
Victor M.
"I wish to thank Janelle very much for the extra effort and time she put in to help me end up with an amazing website that is so much more user friendly for people looking for Dentures than my old site was - in particular with how easy to navigate & easy to read the new site is as my patients are elderly.
Thank you very much Janelle. - V Minas, DD FCAD(A)"
Pedro S.
"Even if you cannot afford to pay for SEO services, having an SEO friendly website helps a lot. Not many web developers out there know anything about SEO.
I hired Janelle for this reason specifically and could not be happier with the outcome!"
Blake R.
"I have been looking for a web designer in Durham for 2 years. It seems like the industry is flooded with cookie-cutter templates and non-unique designs. Not to mention the agencies are all the same with their "one size fits all" approach.
This company really tailors to your business and helps you every step of the way. Could not recommend enough!"
Vitoria S.
"Finally, an SEO friendly web designer! Having a web developer that knows a thing or two about SEO makes a HUGE difference in today's market. Your website may look pretty but if it isn't setup to Google's standards then you won't rank in the search engine and people won't find your site.
I've hired many web designers in the past and learned this the hard way. Great service for anyone who needs a website!"
Branson C.
"Best web design company in Durham Region! I recently decided to move away from Wix to have my website rebuilt on WordPress. I was tired of paying for a site I didn't technically "own" and I was learning more about how bad Wix websites are for SEO.
Janelle helped me understand how to make future changes to my website and even sent me video tutorials for this!"
First we'll discuss what your needs are and present solutions based on our suggestions and your input.
Once we're clear on your vision, we'll present a mockup website design for your review.
We will bring your site to life through user experience and a beautifully custom developed theme.
We will perform comprehensive testing across different browsers and devices to assure everything runs smoothly prior to launch.
Now for the exciting part! We will handle all your website migration needs to get your website up and running quickly and efficiently.
Website Maintenance & Marketing
Frequently Asked Questions